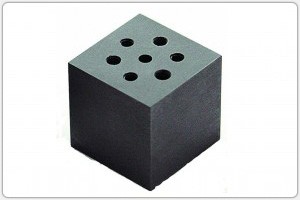 Graphel Carbon Products is one of the world's largest suppliers of graphite materials for EDM and non-EDM applications. We offer a wide range of products from some of the industry leaders including Poco, Ibiden and Toyo Tanso.
Although many graphite grades may have similar specifications, even slight differences in the properties of the material can make a big difference in the performance and wear of the product. When you work with Graphel Carbon Products, you will receive the exact grade of material you specify. We never substitute materials – you can purchase the grade of material required for your application with complete confidence, knowing you will receive the exact grade you ordered.
Product Expertise
Our team has expertise in all EDM graphite grades and can recommend materials for your most complex applications. By leveraging our knowledge, we help our customers improve their manufacturing and cost efficiency.
Our Products:

Materials Available In:

Poco Graphite
Ibiden Graphite
Toyo Tanso Graphite
House Brand

Saw Cut Blocks
Precision Ground Blanks
Diameters
Drilled & Tapped