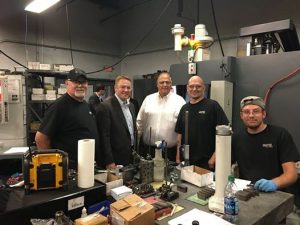 For Immediate Release
Cincinnati, OH
June 19, 2017
Graphel Corporation, a global leader in Precision Graphite Solutions for Aerospace, Power Generation, Medical and Tool & Die Industries, recently had the privilege of Congressman Warren Davidson (R – OH 8) touring our manufacturing location.
"Today we had the privilege of meeting with Warren Davidson at our West Chester, OH location and discussed with him key issues regarding the state of manufacturing in South West Ohio," said Dave Trinkley, President of Graphel Corporation. "As Ohio continues to position itself as a leader in manufacturing, it is essential that we communicate with our congressional leaders' clear information that supports innovation and growth in our state. We are very fortunate to have such a strong leader as Congressman Davidson representing us and our district".
Additionally, Congressman Davidson and his staff were given a tour of our plant and shown some of our key production areas including milling, turning, grinding and tool making, as well as our engineering and operations facilities.
Graphel Corporation has made significant capital investments to increase manufacturing capacity in all locations to support growth and new manufacturing technologies.
"We are thankful to Congressman Davidson and his staff for taking the time to visit our Ohio facility and for the great work they do for our district and all of Ohio," said Trinkley. "We enjoyed the opportunity to share our opinions and experiences with him and discuss how critical our industry is to the states' economy and to the continued competitiveness of American Manufacturing."
Graphel Carbon Products is a manufacturing company that specializes in precision ground EDM graphite blanks, graphite electrodes, and graphite machining for a variety of industries including, gas turbine engine manufacturing, power generation, medical, mold/tool & die, plastic injection molding, and furnace applications.
Aileen Crass, Marketing Manager
Graphel Corporation
800.255.1104
www.graphel.com