[caption id="attachment_11994" align="alignnone" width="253"]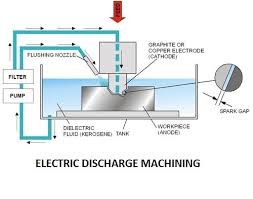 EDM Cavity[/caption]
As the cut progresses through the work metal a cavity starts to form. The deeper this cavity becomes, the harder it is for fresh dielectric fluid to get into the cavity to remove debris and quench the work piece and electrode. In order to get smooth, even flow of dielectric through the gap, flushing becomes an essential part of the EDM process.
Good flushing allows the work piece particles and eroded electrode particles to be removed from the gap. Flushing also allows fresh dielectric into the gap. Both are necessary to maintain stable cutting and to prevent arcing.
It is the volume of oil moving through the gap...
Read more