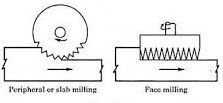 Different Types of Milling
There are many different types of tooling, the most common being work holding tools.  Work holding tools include jigs and fixtures; cutting tools for milling and grinding machines; dies for cold forming,  forging and extrusion machines; and welding and inspection fixtures. In this month's blog, we are going to look at the basics of milling.
Milling is the machining process of using rotary cutters to remove material from a workpiece by advancing the cutter into the workpiece at a certain direction. The cutter may also be held at an angle relative to the axis of the tool.  Milling covers a wide variety of different operations and machines and is one of...
Read more